Posts for: February, 2020
By Cheraw Family Dentistry
February 19, 2020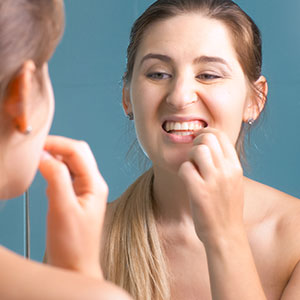 As a saying, "Necessity is the mother of invention" is no more appropriate than when you have something caught between your teeth. And humans, as inventive and creative as we are, have used a weird assortment of items—usually within arms' reach—to dislodge a pesky bit of food.
According to a recent survey, more than three-fourths of Americans admit to using a number of "tools" to clean between teeth including twigs, nails (the finger and toe variety), business cards or (shudder!) screwdrivers. And it's one thing to do this alone, but among dinner companions and other folk it's a definite faux pas.
Usually, it's smarter and more economical if you can use a particular tool for many different applications. But when it comes to your teeth, you should definitely go with a "unitasker" designed specifically for the job: dental floss. It's not only the safest item you can use to clean your teeth, it's specifically designed for that purpose, especially to remove disease-causing plaque from between teeth.
Of course, the reason many of us use alternate items for cleaning between teeth is that they're the closest ones at hand. You can remedy this by keeping a small spool (or a short length) of dental floss or floss picks handy for those moments you encounter a wedged piece of food. In a pinch, you can use a rounded toothpick (better for your gums than the flat variety).
At home if you find flossing difficult, consider using a water flosser. This handheld device emits a pulsating stream of pressurized water that loosens and flushes away plaque and bits of food remnant. It's ideal for people who have a hard time maneuvering floss or who wear braces, which can block regular floss thread from accessing between teeth as fully as possible.
In any case, use the other "tools" at hand for whatever they're intended. When it comes to what's best for your teeth, use floss to keep the in-between clear and clean.
If you would like more information on best oral hygiene practices, please contact us or schedule an appointment for a consultation.
By Cheraw Family Dentistry
February 09, 2020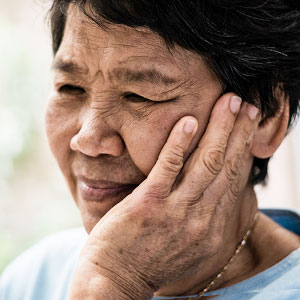 Do you know the top cause for adult tooth loss? If you guessed tooth decay, you're close—but not quite. The same goes if you said accidents or teeth grinding. It's actually periodontal (gum) disease, a bacterial gum infection that affects half of American adults.
What's worse, losing teeth could be just the beginning of your health woes. Several studies show uncontrolled gum disease could cause problems in the rest of the body. That's why we're promoting February as Gum Disease Awareness Month, to call attention to this potentially devastating oral disease—and what you can do about it.
Gum disease usually starts with a thin film of food particles and bacteria called dental plaque. As it builds up on tooth surfaces, bacteria multiply and lead to an infection that can spread below the gum line, weakening the gums' attachment to the teeth.
Beyond tooth loss, though, gum disease could affect the rest of the body. Oral bacteria, for instance, can travel through the bloodstream and potentially cause disease in other parts of the body. More often, though, researchers now believe that the chronic inflammation associated with gum disease can aggravate inflammation related to other conditions like cardiovascular disease (CVD), diabetes or arthritis. Likewise, inflammatory conditions can worsen symptoms of gum disease and make it harder to treat.
The good news, though, is that reducing the inflammation of gum disease through treatment could help ease inflammation throughout the body. That's why it's important to see us as soon as possible if you notice gum problems like swelling, redness or bleeding. The sooner you're diagnosed and we begin treatment, the less an impact gum disease could have on both your mouth and the rest of your body.
Similarly, managing other inflammatory conditions could make it easier to reduce symptoms of gum disease. You can often control the inflammation associated with these other diseases through medical treatment and medication, exercise and healthy eating practices.
You'll also benefit both your oral and general health by taking steps to prevent gum disease before it happens. Prevention starts with a daily practice of brushing and flossing to remove dental plaque. You should follow this with professional dental cleanings and checkups every six months (sometimes more often, if advised).
Gum disease can damage your teeth and gums, and more. But dedicated dental care and treatment could help you regain your dental health and promote wellness throughout your body.
If you would like more information about preventing and treating gum disease, please contact us or schedule a consultation. To learn more, read the Dear Doctor magazine article "Good Oral Health Leads to Better Health Overall."