Posts for tag: teeth grinding
By Cheraw Family Dentistry
January 10, 2020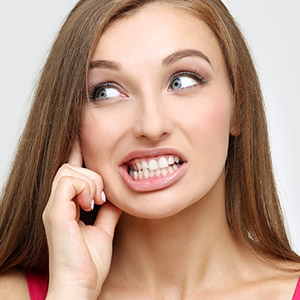 While your teeth and gums can take a lot, they still face dangers like dental disease. Your teeth are also affected by aging-related wear and tear.
And, something else could put your teeth at risk: teeth grinding. This is an involuntary habit afflicting one in ten adults in which they grind or clench their teeth, often while they're asleep. This generates higher than normal biting forces that can cause sore jaw joints, accelerated teeth wear and damage to the ligaments that hold teeth in place. In the worst case, you could eventually lose teeth.
So how do you know you're grinding your teeth, especially if you're asleep? You might notice your jaw being unusually sore after you wake up or your jaw muscles feel tired. Your dentist may also notice higher than normal tooth wear during a regular checkup. One of the best indicators, though, might be your sleeping partner or family: Teeth gnashing together can be loud enough to disturb others' sleep.
In treating adult teeth grinding, it's best to first determine the underlying cause. One of the most prominent reasons is chronic stress: If you're under high pressure from situations at work or at home, pent-up stress can vent through physical outlets like teeth grinding. You can manage high stress through relaxation techniques, biofeedback or group therapy, which could in turn reduce teeth grinding.
Teeth grinding could also be related to a sleep disorder, such as problems with shifting between nightly sleep cycles. Certain psychoactive drugs are often associated with teeth grinding too. And, because of alterations in brain chemistry, tobacco users are twice as likely to grind their teeth as non-users. So, receiving treatment for a medical condition or making certain lifestyle changes could help lessen a grinding habit.
Many of these approaches take time to alleviate teeth grinding. For immediate relief, your dentist can create a custom mouthguard you wear while you sleep to reduce the effects of teeth grinding. The guard prevents the upper and lower teeth from making contact while biting down, which reduces the forces against them.
The damage from teeth grinding is often cumulative. If diagnosed early, though, we may be able to stop or minimize the damage before it goes too far.
If you would like more information on teeth grinding, please contact us or schedule an appointment for a consultation. You can also learn more about this topic by reading the Dear Doctor magazine article "Teeth Grinding."
By Cheraw Family Dentistry
October 12, 2019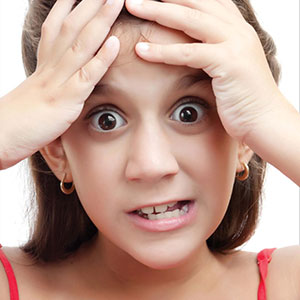 First the bad news: Those nightly hair-raising sounds are indeed coming from your child's bedroom—from your child. It's the result of them grinding their teeth while they sleep.
But here's the good news: the only likely harm is a lack of sleep members of your household might experience because of it. Teeth grinding is so prevalent among pre-teen children that many healthcare professionals consider it normal. But that doesn't mean it can't become a problem, so it's worth monitoring.
Teeth grinding is part of a family of dental habits known as bruxism. It involves any involuntary movement of the teeth and jaws outside of their intended functions not associated with chewing, speaking or swallowing. Our main concern with any bruxism is the possibility for generating stronger biting forces than normal that could damage teeth and gums and contribute to jaw joint problems.
Teeth grinding can occur in adulthood, with stress seeming to be the major trigger for it. With children, though, it's believed to be mainly caused by an immaturity of the child's neuromuscular process that controls chewing. As this matures, most children will tend to outgrow the habit none the worse for wear.
But there are pediatric cases in which the generated biting forces are strong enough to cause damage. Teeth grinding is also prevalent in children who snore or breathe through their mouths, which could be a sign of a serious health condition called obstructive sleep apnea. And certain medications used to treat depression and attention deficit disorder (ADHD) may also contribute to teeth grinding.
Most of the time we can simply let the habit run its course. If, however, the child begins to experience abnormal tooth wear, headaches, jaw pain or other issues believed caused by teeth grinding, we may need to intervene. This could include a plastic night guard the child wears during sleep that prevents the teeth from making solid contact during grinding episodes. And children with signs of airway obstruction should be evaluated by an ear, nose and throat specialist.
It can be irritating or even distressing. But your child's teeth grinding doesn't mean you should be alarmed—only that you should keep your eye on it.
If you would like more information on teeth grinding and similar habits, please contact us or schedule an appointment for a consultation. You can also learn more about this topic by reading the Dear Doctor magazine article "When Children Grind Their Teeth."